Digging around in my closet yielded this gem: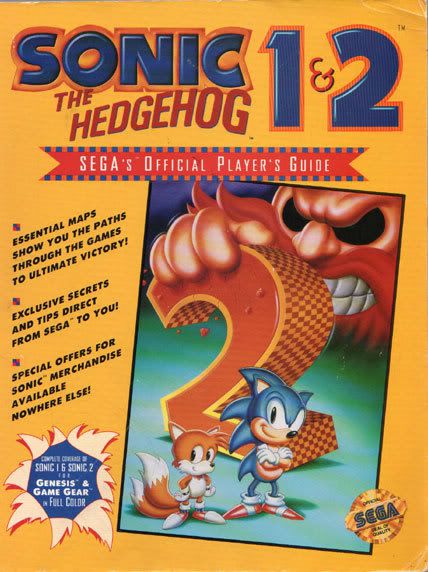 It's not in mint condition, but it's in decent shape, and all the pages are still there. It's got an excerpt from the comic issue 1 in the front, and a two-page spread of merchandise in the back. The whole thing's in color. Anyone interested?
I also still have a TON of comics sitting around, if anyone's wanting some back issues. Here's as complete a list as I can come up with of what I have. Condition varies on these, due to the post office's handling from 2003-2009. Ask and I'll be happy to give you a detailed run-down on how issues look. $3-$4 an issue based on condition sound fair?
Sonic mini-series: (in Early 2003, these comics ran. Later that year, the numbering started over with the regular series)
1-3 (issue 2 has some damage, ask for scans. $2 for that one)
STH:
33-37, 39, 40, 44
(51-53 on hold), 54-59, 63, 64, 68-72, 76, 77, 80, 85- 88, (93, 98 on hold), (100-102 on hold)
(105 on hold), (112-113 on hold), 116-118, 122-123, 125, 126, 128-145, 156, 157, 159, 160, 162-167, 170-197
Tails' Miniseries:
1-3
Sonic Quest miniseries
1-3
Sonic's Friendly Nemesis Knuckes: (I only have one of these)
1
Knuckles: TDL miniseries:
1,3
Knuckles:
4-13, 15-27, 29, 30, 31,32
Super Specials:
Brave New World
Super Sonic Vs. Hyper Knuckles
Sonic Blast
Mecha Madness
Sonic & Knuckles
SS #12 (Zone Wars: Giant Robotno & Turnabout Heroes)
SS #11 (Girls Rule)
SS #14 (Law of the Land & Best of Times, Worst of Times)
In Your Face
Chaos Crossover (SU & Sabrina)
Knuckles' Chaotix
Sonic Kids
Sonic #50 Director's Cut
Sonic X:
17, 19, 20, 22, 23, 27, 40
Sonic FCBD 2007 issue
Animation Magazines:
FPS #12
Animato #22, 25, 30, 40
Other comics:
Futurama #32
Some Mickey Mouse Adventures, Walt Disney Comics & Stories, Yogi Bear, ALF, Talespin, The Lion King, Spider-Man, Uncle Scrooge, and... well, a bunch more! Know anyone who wants the entire run of Chip n' Dale's Rescue Rangers? I can hook them up!